H2 View coverage of our Letter of Intent press release between Ways2H, Inc. and Valecom in Martinique.
Martinique Goes Bananas for Hydrogen with New Blueprint Project
George Heynes | H2 View | September 28, 2021
When people think of Martinique, most think of the warm weather and the tropical sandy beaches; the Caribbean Island is now, however, going bananas for hydrogen.
With bananas the largest export product on the island, it is almost fitting those bananas present a new opportunity to boost the island's economy through the production of hydrogen.
Read more: Inside Trinidad and Tobago's green hydrogen economy plans
Read more: Trinidad and Tobago laying the foundation for a hydrogen economy
In Martinique, one of the largest waste streams on the island is plastic bags that are commonly used to protect the bananas.
Despite being a large environmental polluter and hazard, an opportunity has arisen between VALECOM and Ways2H that could see this plastic converted to hydrogen.
In fact, with the new project, 9,000 tonnes of municipal waste could be turned in renewable hydrogen every year with the first project focusing on power generation for the island.
The opportunity also paves the way forward for further decarbonisation opportunities with clean mobility solutions, such as buses, also a potential for the future.
Under the partnership, Ways2H will initially process 24 tons of mixed commercial waste, including plastics and furniture, per day, with an additional 8 tons per day once the infrastructure is fully operational after an 18-month construction period.
Dominique Regis, CEO of VALECOM, said, "At COP21 we laid out a plan for several projects that would help Caribbean islands, like Martinique, to be more resilient and we consider this project with Ways2H as the next step in that vision.
"This modular and multi-flow project in Martinique will set up one or more of Ways2H's waste-to-energy units and we intend to replicate it in other Caribbean Islands."
Jean-Louis Kindler, CEO of Ways2H, said, "What we're seeing in Martinique is not unique to what we're seeing across the world: local, often rural, economies that are struggling to manage increasingly diverse waste streams, heightened energy costs and job losses.
"As we approach COP26, we see our work here, and in our projects around the world, as a critical blueprint for circular economy creation and we thank our partners like VALECOM as we work towards this mutual goal."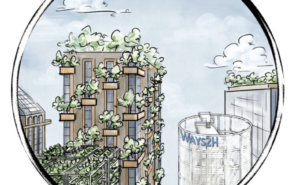 https://www.prnewswire.com/news-releases/new-waste-to-hydrogen-loi-between-ways2h-and-valecom-positions-the-island-of-martinique-as-a-blueprint-for-the-caribbean-301386219.html