H2 View's coverage of the Ways2H partnership with Element 2 for refueling stations in the UK.
40 Waste-to-Hydrogen Refuelling Stations Planned for the UK
Molly Burgess | H2 View | June 22, 2021
Element 2 and Ways2H have joined forces to deliver as many as 40 waste-to-hydrogen refuelling stations in the UK as part of Element 2's plans to deploy over 800 hydrogen pumps in the UK by 2027, and 2,000 by 2030.
Announcing the new partnership today (June 22), the duo said they plan to collaborate on the production and distribution of renewable hydrogen fuel for public transit and other forms of transportation in the UK, Ireland and Europe.
Under such plans, the companies said they envision as many as 40 sites that will each provide 500kg to one tonne per day of renewable hydrogen fuel – enough for a heavy-duty truck, lorry or other heavy goods vehicles to cover 11,000 road kilometres.
It is believed the first project is planned for a location in Scotland, UK.
Commenting on the planned developments, Tim Harper, CEO of Element 2, said, "Our hydrogen supply agreement with Ways2H is an important step in Element 2's plan to deliver 2,000 hydrogen refuelling stations across the UK, Ireland and Europe by 2030.
"As we work to procure renewable hydrogen to supply our refuelling stations, we are pleased to be able to include Ways2H and their Circular Economy approach to producing hydrogen from waste as part of the Element 2 network."
Ways2H recycles municipal solid waste, plastic, sewage sludge and other refuse in a carbon-neutral process that converts the waste into a gas and extracts pure hydrogen that can be used as fuel for fuel-cell vehicles or power generators.
Using the same technology as a recently completed waste-to-hydrogen facility in Tokyo, Ways2H is working to supply multiple waste-to-hydrogen facilities in the UK, Europe, the US and other regions around the world.
On its new collaboration with Element 2, Jean-Louis Kindler, CEO of Wasy2H, said, "Scotland is a world leader in transitioning to clean hydrogen and renewables from fossil fuels to address climate change, and we look forward to working with Element 2 to supply clean hydrogen fuel for cars, trucks, buses, ferries and other transport across Scotland, the UK and Europe."
Did you miss this exclusive interview with Tim Harper, CEO of Element 2?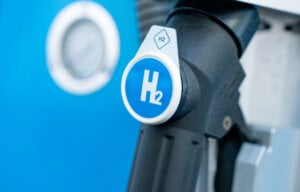 When asked about Element 2's ambitious goal to deploy 800 hydrogen pumps in the UK by 2027, the company's CEO, Tim Harper, told H2 View he wants to "just get on and do it to break the whole chicken and the egg situation."
Clearly passionate about the UK's hydrogen economy, and the country's journey to net zero, Harper explained that the company's ambitions all started over a pot of earl grey with his Co-Founder, Brendan Bilton, at the Coniston Hotel in the Yorkshire Dales.
"I have been looking into it [hydrogen] for 20 years, and my Co-Founder Brendan Bilton, he has been involved in hydrogen and fuel cell companies. A couple of years ago we were talking about doing something together in hydrogen, but the question always stood: What shall we do?
"With that in mind, we decided to have a meeting at the Coniston Hotel over a pot of earl grey and figure out exactly what we were going to do. I always like to map things out, and once we started mapping out our plans, we realised that there was a big link missing to connect hydrogen supply and demand in the UK – there was nobody putting the refuelling infrastructure in place."
Shortly after the business partners' meeting, the infrastructure idea begun to snowball, and the company now wants to deploy more than 800 hydrogen pumps in the country within the next six years to get the hydrogen mobility ball rolling – a goal that many find extraordinary.
Continue reading here.
https://www.h2-view.com/story/40-waste-to-hydrogen-refuelling-stations-planned-for-the-uk/